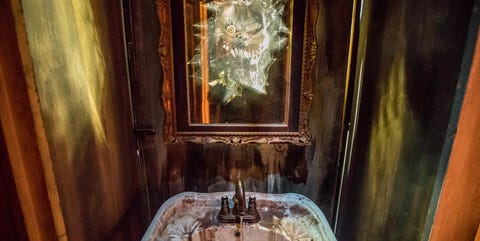 Courtesy of The Gravesend Inn
Some people like eating candy and watching Disney Channel original movies on Halloween (raises hand); others like to be scared to their very core. If it's not Halloween without a serious dose of horror for you, then you need to check out the scariest haunted houses in New York City. If you live in the area, then it's a no-brainer, but if not, you might want to consider making the city your fall getaway, because these over-the-top haunted house experiences are totally unique — and will leave you talking about them for years to come.
1
Blood Manor, Lower East Side
If the name doesn't scare you to your very core, maybe the themed rooms (The Crypt, Killer Clown Room, and Hannibal's Hell — where there's 1,000 ways to die) will. It's a 5,000-square-foot house of absolute horror, and the lines get long, so consider buying an express access ticket.
This immersive experience may be the most terrifying of them all. Ghosts and zombies are scary, obvi, but we all know they aren't real, so the more-probable simulated abduction experience is the one that will have you sleeping with the lights on for the next year. You have 70 minutes in this warehouse with a murderous lunatic to try and stay alive. Bet you'll be wishing you stayed at home watching Netflix instead.
3
New York Haunted Hayride, Randall's Island
Part hayride, part haunted house, total heart-racing horror. Board a tractor-drawn hay wagon and encounter a backwoods hillbilly country full of demonic possessions, a neighborhood ice cream ripper, and other surprises guaranteed to make you want your momma. If you make it out alive, it's time to enter the House of Shadows, a dark maze where your only aid is a low-voltage lantern — but that may help the maze's inhabitants see you before you see them. Gulp.
4
The Gravesend Inn, Brooklyn
Checking in? This haunted house uses high-tech tricks to scare the living daylights out of you. This is the only house on this list that's child-friendly, but we'd probably think long and hard before toting our kiddos along on this harrowing adventure.