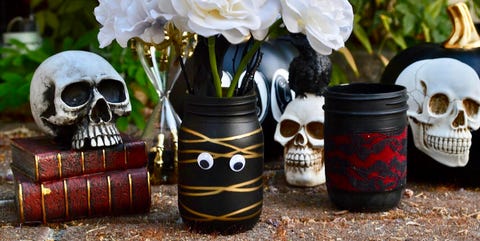 Mason jars are a pretty beloved staple in the DIY and crafting world. They can be transformed into just about anything, fitting into a range of styles (not just country!). They're also the base of many a cute and crafty Halloween decoration on Etsy and Amazon Handmade. From spooky skeleton armies and googly-eyed mummies to rustic pumpkins and ghosts, check out these cool Halloween mason jars just waiting to become a part of your All Hallows Eve decor.
1
Rustic Pumpkin Mason Jars
For something a little less spooky and a little more applicable to the entire fall season, these rustic orange pumpkins should do the trick.
A spooky ghost mason jar like this would also make a cute Halloween vase.
3
Rae Dunn Inspired BOO Mason Jars
4
Gothic Skull Mason Jars
Add a little dark, gothic flair to your home with these black mason jars with skull lids and charms.
5
Jack-o-Lantern Mason Jars
These transparent orange jack-o-lantern jars would make great lanterns, just saying.
This little button-eyed scarecrow is so charming, you almost can't even tell it's a mason jar under there.
7
Candy Corn Mason Jar Trio
You can't go wrong with a candy corn motif, and you can use these to store things in or as vases.
This gold-striped, googly-eyed mummy mason jar is one of the cutest things I've ever seen.
9
Skeleton Army Mason Jar
10
Nightmare Before Christmas Mason Jars
Nightmare Before Christmas fans will recognize these mason jars that have been turned into Sally's potions.
11
Orange & Black Mason Jars
Keep it simple with these glossy black and orange mason jars.
12
Spooky Face Mason Jar Stickers
Have a little DIY fun with these decals made for mason jars — you and your kids can decorate your jars yourself, and use them for whatever you like.
13
Mason Jar Lid Pumpkins
All these jars, but no talk of the lids — this Etsy seller turned them into some pretty cute pumpkins.