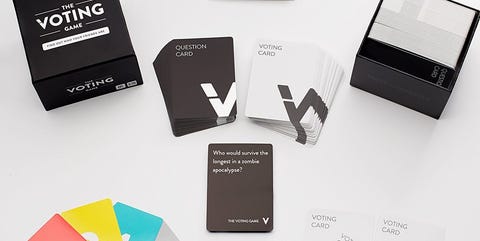 Say you're having a night in with your friends. You've scored the snacks and the wine, but a movie sounds like a snooze. It's time to break out a game. The following picks aren't your grade-school games of Monopoly and Chutes And Ladders. From apps on your phone that make you dance, to raunchy card games you've probably yet to try out, there's something on this list for however you like to party.
App Store, $1
After seeing Ellen DeGeneres break out this game on her show, we immediately downloaded it. This one is broken down by categories and you'll be doing anything from accents to guessing celebrities. It's like a new-age Who Am I?
Amazon, $30
Memes have taken over our Insta feeds—and, admittedly, our free time—and now there's a board game to fit the bill. More than 1,000 people on Amazon love , which is lively enough to distract your feuding relatives next Thanksgiving.
App Store, free

If you're a sucker for dirty humor, this game—which is basically Cards Against Humanity on your phone—is perfect for your crew. When a sentence is thrown out, you look among your cards (each with its own ridiculous phrase) and choose the one that best, or most ridiculously, fills in the blank. Up to four people can play, and the first to seven points wins, and it's basically guaranteed to make you look at your friends in an entirely new light.
App Store, $2.99
If you're looking to dance, but don't want to leave the house, there's an app for that. Bounden is a dancing game that uses your phone's motion sensors to get you on your feet. Each person takes hold of one end of a phone, and then you'll soon be tilting the screen to move a sphere through a path of rings. Prepare to be doing ballet in no time.
Amazon, $34.4o
If you're not in the mood to set up an entire evening wrapped around a game but still want some suspense, opt for a classic game of Clue—with a Game of Thrones twist. Inside, you'll find actual settings from the show, along with six weapons and six characters. You can also try for the if you're not a GOT fan, or an amazing
Amazon, $24.99
"Warning: Not recommended for accountants and other people without a personality," reads the label on this card game that'll teach you A LOT about your friends. Each round begins with a question like "Whose Google search history would you like to see the most?" Then, you go ahead and vote, after the results are spilled, you must guess who voted for you. Honesty will be worn on sleeves!
Amazon, $5.99
Kill time by playing any and all classic card games like Spit, Poker, Gin rummy or Blackjack. You can't go wrong there, and cards are so easy to travel with.
If you have enough people, this one is great, because gifts are involved. Starting with randomly passing out a couple prizes, you read out a story of your choosing that has the words LEFT and RIGHT scattered throughout and pass it in either direction. At the end of the tale, the guests holding each gift get the goodies inside.
features a bunch of fun scripts to use.
Amazon, $11
Get everyone out of their comfort zone with this edgy take on the family game Cranium. Think Pictionary and Charades mixed together, but there's embarrassing singing involved, too.
10
Murder Mystery Parties
MyMysteryParty.com, $31.95 and up
Create your own suspense by planning an evening revolved around...murder. For this one you'll have to plan ahead, but after ordering and downloading the mystery materials, you and your friends can start following the clues. Prices range from $31.95 to $91.95. You can check out your options